If you've ever found yourself swimming up and down the local pool, and been struck by the monotony of this activity, you've probably thought to yourself 'You know what, I really wish I had some music to listen to right now". The SwiMP3 is for you.
This very handy little gadget, made by a Californian aquatic training company called Finis, is a waterproof 128 MB MP3 player that is cleverly attached to the swimmer's goggles (you can use your own, or the ones that come with it). The music is transmitted via the pads which rest against your cheekbones, rather than your ears, hence why you can hear it underwater (much like the headphones we wrote about here). The SwiMP3 – on sale at $249.99/£118 – holds around 80 tunes, and is good to go for four hours – anyone who swims for longer than four hours at a time is either a) mad or b) mad. [Jenna C-B]
Product page: £118 here
Related stories: Sennheiser headphones|Radio bra|Nike+iPod
By Susi Weaser | October 26th, 2006
---
---
Must read posts: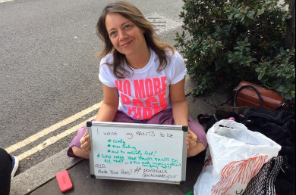 shinyshiny speaks to No More Page 3's Lucy-Ann Holmes...
---
---