« LCD TV Boombox with CD/DVD player | Main
Emotibuds: Because Your Ears Have Feelings Too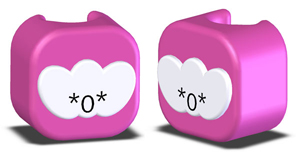 If you find emoticons in emails (or any other text-based communications) so annoying you want to just reach through the screen and slap their smiling/frowning/winking little faces, you might want to just skim past this entry. These, you see, are Emotibuds: yes, that's right, emoticons for your ears - or for your iPod earbuds, anyway. They come in four different colours and four different emotions ("starry eyed", "skeptical", "pacified", and my own personal favourite, "neurotic"), and you just slip them on your earbuds to let everyone around you instantly know your mood. Unfortunately these must have been so popular that makers Futuronomie seem to have sold out of them at the moment, but you can sign up to be notified when new Emotibuds come into stock.
Product Page: [via Techie Diva]
Related: Squidgy KOSS Earbuds | Coloured iPod Earbuds | Earbuddy
Came straight to this page? Visit Shinyshiny.tv for loads more Shiny gadgets!
Posted by Amber on October 6, 2006 in Accessories | Permalink
TrackBack
TrackBack URL for this entry:
http://shinymedia.headshift.com/cgi-bin/mtshiny/mt-tb.cgi/9666
Listed below are links to weblogs that reference Emotibuds: Because Your Ears Have Feelings Too:
Comments
Post a comment