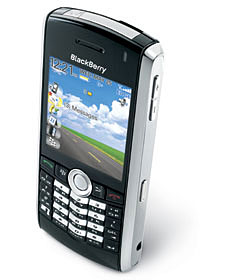 Blackberry want YOU. Or at least, they want your money. Which is why they've come up with the Blackberry Pearl, which is an attempt to win over all those consumers who choose their phone not just on what it can do, but how many jealous stares it provokes when they pull it out of their bag. Which is basically you lot out there. They reckon they've cracked the data vs phone combination, so you can do it all from this one device. So have they?
Out of the box, the Blackberry Pearl emerges all shiny and new. I have to admit, if I didn't know about the phones magical abilities, I would be tempted to buy it on looks alone. I'm that shallow. I'm getting bored of saying it, but it really does have a 'piano black' finish, set off with chrome on the sides, and surrounding the camera. It's pretty. The 'pearl' in the centre you use for scrolling. It's a great way of getting through the extensive menu, since it works in the same way to the ball in a mouse, not constrained to moving just left to right and up and down. It also lights up with a kind of purplish glow when you start using it which is extra pretty.
The email system itself is really easy to set-up, and is designed with consumers in mind, rather than those who have an IT guy and an Exchange server. You just get on the Blackberry website, enter your email address and password, and you're done. There's no entering of smtp addresses, finding well hid settings or anything that you could mess up. The only sticking point is that if you want Hotmail to deliver, you need to pay MSN for 'premium access', but that's an MSN problem rather than RIM's.
In an attempt to catch up with other phone manufacturers, RIM have added a media player for music, photos and videos. To support this, they've included a MicroSD slot, and bundle a card with it, although they're not clear on what size it will be at the moment. They've also included headphones for your media.
They're really pushing the inclusion of a camera on this one, but at 1.3 megapixels it's not going to win any prizes. Given Blackberry's excitement about it being there, you'd have thought they'd have got a better one. They've also put the MicroSD card under the SIM, which is a personal hate. It makes it really tricky to get to, and clumsy people like me will inevitably lose/scratch/ruin the SIM card eventually.
There are also certain things seen on your average mobile which you'll miss. There's no way of instantly getting into a new SMS message, or your contacts – all of these are done through the main menu. And to put that in perspective, the main menu has 33 different icons to navigate through. There are 5 icons on the home screen, but they seem bizarre choices, including Enterprise Activation and Yahoo Messenger. There are two buttons either side of the handset which you can personalise, but there doesn't seem to be a way of personalising the home screen. [Update: turns out, you can change the order of the icons on the main menu, which in turn changes the icon order on the home page].
The keypad itself is a full QWERTY keypad, but has two letters to each button. And unlike other models, it's not a case of hitting each side of the key to get the different letter. So, this gives you a combination of predictive text and normal typing, where you've got to keep an eye on what you're being predicted to avoid having to go back and do it all again. I found it really difficult to get used to, as the predictive element fooled my brain into thinking that the keypad would be set up like a normal phone. I would have found it quicker and easier if it had I think.
Overall, despite it's faults, I love the Pearl. It looks good, and it stops me getting that weird panicky feeling when I'm away from my computer for too long (I'm not a workaholic. I just hate missing anything). It'll be available at the end of this month from most carriers. Check out the video here.
By Susi Weaser | September 14th, 2006
---
---
---
---