« Alessi Handheld Vacuum | Main | One Minute Video Review: Harmon Kardon/JBL Spyro Speakers »
Monaco Sidekick 3 Aluminum Case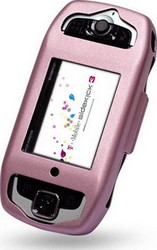 The Monaco Aluminum Metal case (available in Black, Silver, Pink, Purple or Gold) is a sort of protective clam shell for the swivel screen Sidekick 3. It has a Neoprene interior to keep your SK3 cushy, and the cut-outs give full access to all the buttons. Well, except those on the keyboard, which you still need to open the case to access, since it's beneath the swivel screen. Perhaps not your best option if you send SMS messages on your SK3 very often, but as someone who has had to send her SKII in for wear and tear repair, I can tell you that a protective case of some kind is not a bad idea.
Read -[via Chip Chick]
Came straight to this page? Visit Shinyshiny.tv for loads more Shiny gadgets!
Posted by sarcasmo on September 11, 2006 in Cases, Covers and Bags | Permalink
TrackBack
TrackBack URL for this entry:
http://shinymedia.headshift.com/cgi-bin/mtshiny/mt-tb.cgi/9407
Listed below are links to weblogs that reference Monaco Sidekick 3 Aluminum Case:
Comments
Post a comment