Maingear's customisable Prysma PC has 64-bit CPU support, Intel VIIV technology, and a shape that will turn all the traditional (totally squaresville) PCs green with envy (although maybe not Cypress Green – as that's a whopping $299 extra). My biggest concern with this unusual case design: without a flat top, it would leave me no place to haphazardly stack the games I'm currently playing, or the recently purchased Cd's I keep meaning to rip to MP3 the next time I have a few minutes. With a pointy PC like this on her desk, a gal might have to actually start putting things away when she's done with them.
Starting at $1,958.10 from Maingear.
Product Page [via Chip Chick]
More computers – of all shapes and sizes
By Star C. Foster | August 16th, 2006
---
---
Must read posts: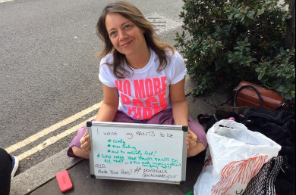 shinyshiny speaks to No More Page 3's Lucy-Ann Holmes...
---
---