Every morning I have to follow my footsteps from the previous evening, to find such essentials as keys, money and lipgloss. I'm *so* over starting each day like Hansel and Gretel. However, with the Loc8ter I might actually stand a chance of keeping all my stuff with me.
You can stick a tag on what you want to keep close by – wallet, keys, children, boyfriend, and when it strays out of the range of the Loc8ter it'll let you know and then guide you back to it. It comes with 2 tags, but each Loc8ter can register up to 24. [Update: News just in – Loc8ter is actually Loc8tor. With an O. For Orange. And it turns out, we already knew about it – see it here]
Product page: £50 from Loc8ter.com
By Susi Weaser | August 1st, 2006
---
---
Must read posts: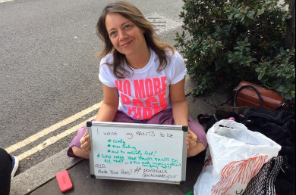 shinyshiny speaks to No More Page 3's Lucy-Ann Holmes...
---
---