Virgin Digital has just launched their digital starter kit, which is supposed to contain everything you need to get online, get your music, and get a fully loaded up MP3 player. All 256MB of it, so pick your songs carefully.
The player itself isn't going to set the world alight – it's not going to measure how many miles you've run, provide you with a DAB radio station or any of that flashy stuff. It will hold about 60 songs, and act as a voice recorder (I always thought this was an entirely random thing to have on an MP3 player – I've never actually seen anyone use it). It's easy to load up (hence starter pack), seeing as how it just plugs straight into your USB port. It also lets you change the tempo rates of songs – not entirely useful, but quite fun if you're a fan of The Chipmunks. And if you're the kind of person who shrieks at the sight of Christmas lights, you might enjoy the changing colour of the backlight. It's for the kids, see?
Product page: £30 from Virgin Megastores
By Susi Weaser | July 14th, 2006
---
---
Must read posts: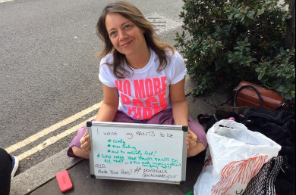 shinyshiny speaks to No More Page 3's Lucy-Ann Holmes...
---
---