Every now and then I open up a press image and think "ooh, very flash… what is it?" and this was one of those times. Luckily, PRs usually have the foresight to include a press release with the aforementioned press image, so using the power of my eyes (to read), I soon discovered that the Cineos is a home cinema that includes all the things we want and need from a modern system, such as HDMI connectivity and video upscaling for near high definition video quality. At this point I should confess, that was still not fully au faut with this thing's purpose in life. Luckily, reading on revealed the following information "The system comprises of the main DVD unit, three front speakers, three wireless rear speakers – connected to a wireless receiver box – and a subwoofer". So, it's a DVD player with a surround sound speaker set, including – unusually – some wireless speakers. I knew that.
Also on board is multichannel Super Audio CD playback and Dolby Digital EX 6.1 surround sound (using wireless rear speakers). The video upscaling means you can improve the picture supplied to 720p and 1080i resolutions, which will make it look better on a High Def TV. After that, the release all becomes a bit of a blur of home cinema speak, so if you're a person who just can't get enough of sentences that include things like "ribbon tweeter with Neodymium magnet", I'd like to direct you in this direction, where you'll find the product page.
More Home Cinema dirty talk over at HDTV UK
By Katie | July 14th, 2006
---
---
Must read posts: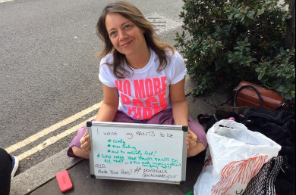 shinyshiny speaks to No More Page 3's Lucy-Ann Holmes...
---
---