When is a guitar not a guitar? When it's a USB memory stick. In this case, a 256 meg USB stick with a fancy guitar case.
Before you pull out your $15 to purchase the tiny (160 x 46 x 20mm) instrument to play in your tiny rock band, you should note that the product pages specifies, "Guitar can not be played." This fact, however, we not stop me from shouting out "Freebird!" at you if I see it plugged into your PC.
Product Page (via The Gadgeteer)
Other Guitars: Oppo X41 M Guitar-Shaped Music Player | Top Ten Guitars for Girls | Hello Kitty Strat
By Star C. Foster | June 30th, 2006
---
---
Must read posts: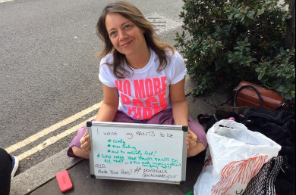 shinyshiny speaks to No More Page 3's Lucy-Ann Holmes...
---
---