Orange emailed to say that it's very important for network providers to differentiate themselves by offering exclusive colours of favoured handsets. Which is why this Deep Violet RAZR V3i and a pure white Nokia 6233 (silver one pictured) are the first in a series of colour phones available in Orange stores this year. I promise not to make a habit of quoting from press releases, but I liked what Matthew Kirk, Devices Director for Orange UK had to say: "two or three years ago you would never have seen a purple or white phone. Today consumers want choice… By the end of the year we hope to see at least 25% of our range featuring reds, pinks, blues and other lively colour combinations."
Good news all round as far as I'm concerned. The Motorola RAZR V3i in deep violet is available now and the Nokia 6233 from the beginning of July from all Orange shops. Both handsets are free with a £25 Orange contract.
Related: Moto V3i in three new colours | Motorola PEBL in 4 colours
By Katie | June 13th, 2006
---
---
Must read posts: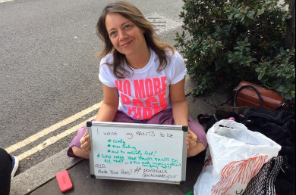 shinyshiny speaks to No More Page 3's Lucy-Ann Holmes...
---
---