Cinderella had mice to help with her sewing and Snow White had animals who assisted with the cleaning; isn't it about time the rest of us had anthropomorphized animal helpers too? The Ubi.ach may not help you get any of your chores done, but through the magic of RF, PHP and a walkie-talkie technology, it can verbally alert you when you get new email. In fact, it will read aloud the subject line of any messages which are flagged to you personal specifications. I think it would be great fun to set it up so that it read aloud only the subjects of incoming SPAM ; seeing a cute bunny talk about, well, the sort of things SPAM talks about would be as far from Disney-esque as one can get.
The Ubi.ach project is by Min Lee, Gilad Lotan and Chunxi Jiang. There is a video of a dancing bird version of the Ubi.ach embedded on the website, and although I'm not 100% certain, I think what it's saying might even make my imaginary SPAM reader blush. – [Star C. Foster]
Read More (via pasta and vinegar)
Related:
Cellular Squirrel – Robotic Call Screener

Wi-Fi Bunny
By Star C. Foster | May 12th, 2006
---
---
Must read posts: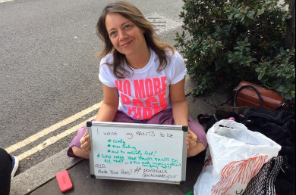 shinyshiny speaks to No More Page 3's Lucy-Ann Holmes...
---
---