A few moments ago, I wasn't too worried about my water. Then I read about the SteriPEN, a device for travellers that claims to use UV light to clean drinking water of "bacteria, viruses and protozoa," and now I'm looking at my daily recommended eight glasses a day askance. I mean, there my water is, looking all clear and clean, and apparently full of creepy crawlies. SteriPEN is said to purify 16 oz of clean drinking water with a quick stir. "Dirty, discoloured" water should apparently be given a pass altogether, but to be honest, I've never been likely to drink murky water unless I was suffering from dehydration, in which case the odd protozoa would be least among my problems.
The SteriPEN runs on 4AA batteries, and is available from Magellan's for £149.00.
By Star C. Foster | May 29th, 2006
---
---
Must read posts: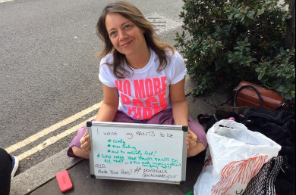 shinyshiny speaks to No More Page 3's Lucy-Ann Holmes...
---
---