I'm the sort of uncouth neanderthal who still doesn't understand the need for asparagus to have its own fork – so I may be culturally unqualified to examine the existence of another strangely specific kitchen tool: the Clack Punch-Bell Egg Cracker. As you might guess from the name, this device (available with either a woodhead or rubberhead) will crack your morning egg for you. The WM 2006 special version even has a minature football (that's a soccer ball, for my fellow Americans) on top, for all your egg-eating footie fans.
I'm not much of a boiled egg eater (I'm much more of a just – coffee – for – me – thanks breakfaster), but are they really so difficult to open that they require their own tool? Is cracking the top not something one can do effectively with a firm, targeted whack of a heavy spoon? If your eggs require that special touch, you can get the Clack for 17,80 EUR (19,90 for the WM 2006) from UDIG. – [Star C. Foster]
Product Page (via Slashfood)
More For You Egg Fanatics:

Henrietta Hen Automatic Egg Cooker

Egg egg timer
By Star C. Foster | May 17th, 2006
---
---
Must read posts: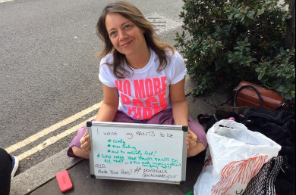 shinyshiny speaks to No More Page 3's Lucy-Ann Holmes...
---
---