After years of reminding blokes that "our eyes are up here," someone's gone and invented a bra that seems to say "but my breasts are down here." In fact, since it's got LED lights mounted along the decolletage, it can say that quite literally, if you'd like it to.
Originally designed as a performance art piece, the bra is for sale by custom order. What price for this fashion-forward, feminism backwards piece? $500, and perhaps, a little bit of your dignity. – [Star C. Foster]
Read (via Coolest Gadgets)
Related:
LED Underwear
Scrolling LED Wearables
By Star C. Foster | March 14th, 2006
---
---
Must read posts: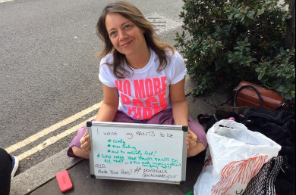 shinyshiny speaks to No More Page 3's Lucy-Ann Holmes...
---
---