Sometime ago we told you about the Nabaztag, Violet's achingly adorable Wi-Fi enabled ambient device that gives users status updates on email, weather and what have you by moving its ears or blinking its belly lights. Well, we've got two updates on the little fella: First – as a result of a partnership with the Acapela Group – the Nabaztag has added singing and talking to its skillset, meaning means it can now use words to tell you your stocks doing poorly, rather than just drooping its bunny ears.
Secondly, this Wi-Fi bunny will be available in the UK starting this month, with a selling price of approximately £64. And now that the UK has it, I can only hope its journey to this side of the Atlantic isn't too far behind, because I'm totally enamoured with the idea of a bunny personal assistant giving me the scoop on my weather and email. (I can't explain it – but it's true.) – [Star c. Foster]
By Star C. Foster | January 25th, 2006
---
---
Must read posts: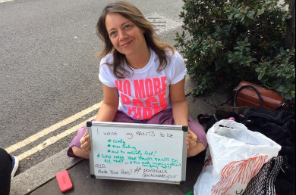 shinyshiny speaks to No More Page 3's Lucy-Ann Holmes...
---
---