First, we told you about the MP3 playing toilet available only in Japan. Now, the rest of us can go one better. I wouldn't have believed it, but I saw it with my own two peepers at MacWorld this past Friday: Atech Flash Technology's iLounge hybrid toilet paper dispenser/iPod dock.
Sporting both a USB slot for the iPod Shuffle and a dock for iPod models with dock connectors, the speakers are housed within the arms that support the toilet paper holder. Navigation buttons allow you to control your player with ease, freeing your other hand for [insert favorite bathroom reading material]. Don't forget to order your complementary RIAA toilet tissue here.
Now, I'll never get my hubby out of the loo. [ChicGeek] [ChicGeek; Photo from TUAW]
By ChicGeek | January 14th, 2006
---
---
Must read posts: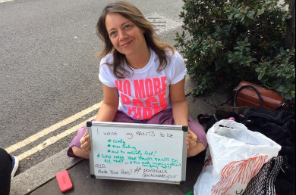 shinyshiny speaks to No More Page 3's Lucy-Ann Holmes...
---
---