Remember the CL75 ladyphone that Siemens announced a while back? Well, the handset is being launched in the UK at London Fashion week with this new poppy design. The company has continued to go out on a limb to get the ladies interested, this time commissioning a silver charm accessory from British design duo, Nargess Gharani and Vanya Strok. The Poppy charm, which is inset with a pink Swarovski crystal is available to buy in very limited editions with all proceeds going to Breast Cancer Care. You can get both the phone and the charm (£39.99) at the Siemens shop. The CL75 Poppy will be available in the UK from October 2005 from stockists including Carphone Warehouse, O2, Phones4U, The Link and Virgin from £99.99 on pay-as-you-go. Since the charms are being sold for charity they should have better karma than Roja Dove's special perfume created for us free-loading, freebie-loving journos at the Euro press launch: it all went missing somewhere in transit.
By Shiny Media | September 20th, 2005
---
---
Must read posts: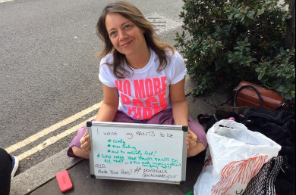 shinyshiny speaks to No More Page 3's Lucy-Ann Holmes...
---
---