Maybe it's just because I'm currently enjoying an end-of-summer head cold, but while the guys over at Engadget think this toaster-cum-radio is a pointless product, the idea makes perfect sense to me. The Hammacher Schlemmer radio toaster browns your toast and keeps you abreast of the morning news all at the same time. Since my digital radio takes up much-needed space on my kitchen sides, I'd be more than happy to retire my toaster and radio in favour of this two-in-one (if it came in DAB digital, that is). As I say, maybe it's just me, but being able to listen to a bit of chat on the radio while I'm doing my weekly mammoth washing up session, *and* knowing there'll be tea-cakes at the end of it, makes this the most sensible product I've ever seen. Or maybe that's just the fever talking.
By Katie | September 14th, 2005
---
---
Must read posts: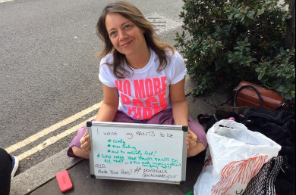 shinyshiny speaks to No More Page 3's Lucy-Ann Holmes...
---
---