Now, I'm all for carrying around bits of tacky Hello Kitty tech, but if I was in a burning building and someone tottered over armed with one of these Hello Kitty fire extinguishers, I'd think fling myself into the flames. I mean, a pink extinguisher with a picture of a mute kitten in a red bow on it doesn't really inspire much confidence does it?
By Katie | June 24th, 2005
---
---
Must read posts: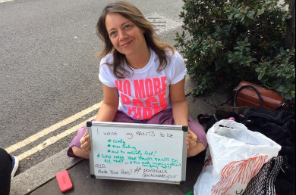 shinyshiny speaks to No More Page 3's Lucy-Ann Holmes...
---
---