I have been known to hang my flash music player round my neck using the special earphone-necklace combo the manufacturer thoughtfully provided. I'd feel a bit of a div parading round with it on show though so I always hide it under an item of clothing. Which is why I'm not entirely sure I'd want to take up the HangPhones offer of attaching an iPod or iPod mini round my neck. I'm not sure I could come up with an adequate excuse for the unsightly bulge it would produce under my cardie. Still, if you rather fancy wearing your Apple round your neck, the HangPhones from Artwhizz should do the trick. They're available in black and white and the company also makes some see-through cases that work in conjunction with the earphones.
By Katie | June 2nd, 2005
---
---
Must read posts: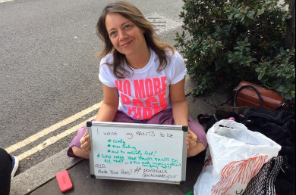 shinyshiny speaks to No More Page 3's Lucy-Ann Holmes...
---
---