I've got a bit of a thing for laptops: partly because I used to work on a laptop mag; partly because they mean I can do all my work in bed wearing brushed cotton jimjams and eating hobnobs (Carrie Bradshaw I ain't). Aside from the pesky problems of RSI and a knackered old laptop that gets so hot it burns the hairs off my legs (well, I did say I wasn't Carrie Bradshaw), my home set up just works a treat. Then again, if I had this Samsung Q30 laptop I might just make the effort to get out of bed, put on some fab (Faith copy) Manolo pumps and a big frock, and do a spot of pensive lip biting whilst writing copy that has "I got to thinking" littered generously throughout. And then, with my super-lightweight 1.1kg red notebook in tow, I'd skive off for the afternoon to totter gaily through the streets and rummage through the bargain bins of my local charity shops in the hope of finding something kooky for 5p.
Product page [via Popgadget]
By Shiny Media | May 9th, 2005
---
---
Must read posts: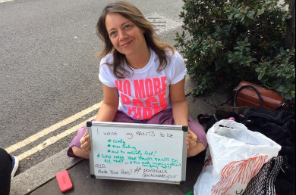 shinyshiny speaks to No More Page 3's Lucy-Ann Holmes...
---
---