I still, all these years after we got it, have not the faintest idea how to work the cappuccino maker. Not because I'm useless, but because if I learn how to use it, I'll have to actually start making them on a Sunday morning when I'd rather be lying in bed waiting for one to be brought in to me. I'm not as green as I'm cabbage looking you see. Anyway, I might just be tempted to learn how to use this cowprint Mukka Express cappuccino maker from Bialetti simply so I can titter with enthusiasm every time I see the milky froth appear from the cow jug. The designers should have made it with an udder though – that's a gross oversight on their part, but one I'm willing to overlook. Just this once.
$89 from La Prima Shops [via Kitchen Contraptions]
By Katie | May 19th, 2005
---
---
Must read posts: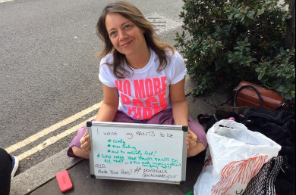 shinyshiny speaks to No More Page 3's Lucy-Ann Holmes...
---
---